Mediafin has extended the websites of newspapers De Tijd and L'Echo with an investor community. Registered users can rate and comment shares of publicly traded companies. This information is used in addition to professional analyst ratings to offer investors a broad overview of share popularity with experts and with the general public.
Foreach extended the existing website platform and backend user interface to support the new community. We also implemented a new nickname system, which provides more transparency about who has given a certain rating. As usually the functions are tightly integrated throughout the entire website, offering as much relevant contextual information as possible.
Registered users can now voice their personal investment opinions on companies and rate their stock on www.tijd.be and www.lecho.be. Potential investors can use the sites as a broader source of information by taking into account what the rest of the community thinks. Community trends can be visualised up until a year ago, recommendations can be commented and followed, and personalised e-mail notifications can be set up. This notification system was built on top of the Selligent platform, which handles all general and personalised mails launched by both websites.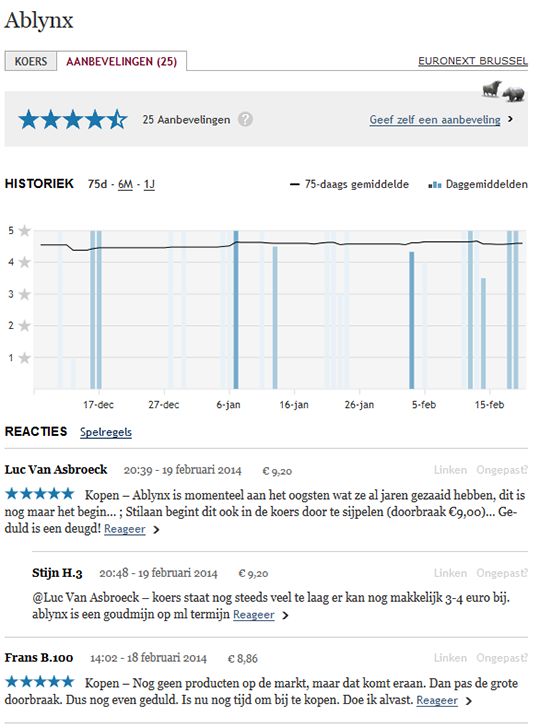 Because any public community has a certain risk of abuse, new backend functionality was built to provide some emergency procedures. It is for instance possible to block specific users or require pre-approval for any comments a certain user makes. The editorial staff also has the ability to temporarily disable voting options for any or all shares.
In the process of the implementation, a number of specialised stock related blogs with their discussion trees were migrated away from the Typepad platform to the internal platform of Mediafin. The reason for this migration was the ability to integrate the editorial content more tightly with the community site. From a backend point of view, it allows the journalists and editors to use a single system to maintain both the blogs and newspaper content while having the same user management capabilities.
From a technical point of view a lot of the effort went into integrating the community aspects throughout the site and having the frontend cross-browser and tablet compatible. In order to realise this, historical graphs are HTML5 based. A new data engine was built to keep track of all recommendations and generate the historical trends for every share. To be able to scale for the future on a high-traffic site the data was integrated with Oracle Coherence cache.
The entire investor community was built by a 6 man team including project management, testing and implementation. Lead time was about 3 months.