[UPDATE 22/11/2018:
We got the Squad of the Year award! Thanks for all the votes! Check out our sweet award below, or take a look at our short "what we do" video (in Dutch).]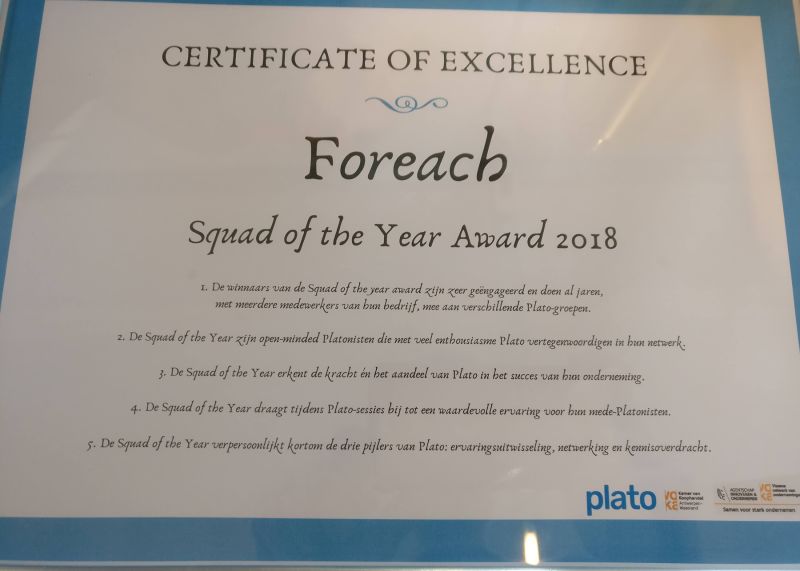 Foreach is nominated as "Squad of the Year" by Plato, the knowledge-sharing network of Voka (the Flemish network of entrepreneurs). Plato is very important to us and we'd be thrilled to have your vote: vote Foreach! [You did, we won!]

Over the past years, participating in several Plato groups has helped our company to professionalise and has inspired our colleagues to grow.

We put substantial energy in helping our colleagues, our Young Potentials and our Leadership Team grow professionally. Formal training with a solid education budget, our library of books, coaching by seniors, experience sharing sessions, etc. are all very important, but only cover part of it. At a certain point, it becomes necessary to look beyond our immediate surroundings.

That's exactly what Plato enables us to do. It provides opportunities to get to know other open-minded entrepreneurs, to learn from them and perhaps to inspire them in turn. Plato revolves around small groups of professionals that meet regularly, exchange ideas and take the time to really get to know each other's professional challenges. Our colleagues are rewarded with fresh insights into their daily problems, while learning about business situations others are dealing with.

In addition to Plato, Foreach is also actively looking for learning opportunities outside of our organisation. Four colleagues are mentored by experienced entrepreneurs thanks to the Orange Young Potential Boostcamp and the Young Leader Inspiring Mentor initiative. The mentors act as external (and very wise) coaches who help our colleagues grow, as professionals and as people.

It is safe to say that being nominated as "Squad of the Year" is great, but the value added by Plato to our organisation is even greater!

Still, if you haven't yet, please do vote Foreach.