On Thursday 14th and Friday 15th of January, we organized our very first Ship It Day. "What's that?", you might ask. Well, it's essentially a 24-hour period in which the employees can work on projects they thought up themselves and go off the grid for customers. Don't worry, the customers were warned. Ship It Day was an opportunity for our people to focus on unbillable passion projects in small teams as long as they could create something shippable afterwards.
Prep: getting started
A couple of months before the actual event, we created a wiki-page on which everyone could write down their ideas for shippable projects. This page functioned as a subscription mechanism as well.
The requirements were:
You can't work on it alone

It has to be something that the company in general can prosper from
We ended up with a shortlist of seven projects, two of which did not meet the first requirement as there were not enough people interested in those ideas. Due to illness and a project that lost its usefulness in the meantime, there were three active projects left:
Create a Foreach Lounge (and clean up the place while we're at it)

Develop a multiplayer web based game (which was later called CurveFever)

Build an Empty Coffee Can Detector
Fifteen people actively participated in the Ship It Day. This is more than half of the employees, so we can say that there was definitely enthusiasm for a first edition.

Thursday: And so it began
We started the day with a communal breakfast for the entire company and a kick-off presentation by Andy. After that, the participants organized themselves into teams. Each team had a team lead, coincidentally the people who came up with the idea in the first place. Since this was really a complete DIY approach, the teams did not have any interference from outside. It was the job of the team lead to organize the work and, hopefully, get everything done within the deadline of 24 hours.
Foreach lounge: There were already several things ordered and delivered beforehand, so creating a cozy lounge that was both nice looking and comfortable for meetings went pretty smoothly. Hanit had a vision for what she wanted and had the help of Hans, Glenn and Pavan for the moving of the heavy stuff and the drilling. At lunchtime we had a beautiful area to relax and talk about how the projects went. The second part, cleaning up the entire building was somewhat of a daunting task, but team lead Hanit really whipped her team into shape!
CurveFever: This game was based on an existing game engine and the goal of this project was to learn more about web workers and Node.js. Team lead Jeroen wanted to achieve a multiplayer game with smartphones as controllers and a big screen as playground. This resulted in 'CurveFever', a multiplayer Snake-like game. This was actually the only team that worked until late Thursday evening. This was a project that had a heavy work load. Fortunately Jeroen had the help of Sander, Stijn, Wouter, Alain and Niels.
The Empty Coffee Can Detector: Because Foreach has a basic 15-cup filter coffee machine, it regularly happens that a person takes one of the final cups without making new coffee. So we came up with the idea to cure ourselves from this irritation. Using a starter kit from Arduino and a simple load cell, the team wanted to achieve a detection mechanism to warn people that new coffee needs to be made. Jens divided his team: Marlies and Pavan were to work out the electronics and Jens and Andy to build the hardware.
As we plugged away beyond normal hours, Foreach slowly started to change. Everyone was focused on delivery within a 24-hour period and some were stressed more than normal, which was comical to see. The only break came in the welcome form of sandwiches by Tjoens for most at lunchtime.
Some of us floated in and out of the office as there was more material needed than originally thought (Coffee Can Detector), some of us moved to new projects (Alain first helped out with the Foreach Lounge and moved to the CurveFever project in the afternoon). As day gave way to night, a few more filtered out while some of us persisted on a steady diet of caffeine or Fanta in Wouter's case and the occasional ping-pong game.
Thursday-night was pizza-night!



Friday: D-Day
Again, the day began with breakfast together and afterwards we launched ourselves straight ahead into the projects. Most of the teams still had a lot of work to do before the deadline, so it's safe to say that there was a healthy amount of animosity and stress going on.
We had already agreed with the management that they could return at 3PM, at which time we would perform a show-and-tell for each project. Therefore the deadline for the projects was 2PM, so the teams had some time to prepare the demo and clean up their work space.
Foreach lounge: The team spent most of the time decorating and finalizing the relaxing area. Hanit and Glenn came up with two ideas that were initially not on the planning. They decided to make a "Memory wall" and to put down some greens (preferably plants that would survive in our company). The show-and-tell sessions would take place in the lounge, so it had to be completely ready AND comfortable. Hanit had some people test the new lounge. Even Wim was happy as he could work quietly in the lounge when the clean-up upstairs was in full-blow.
CurveFever: This project generated some stress with the participants, because they were really pushing against the deadline. Last minute features included a game lobby, so multiple sessions could be hosted at once. The team had their share of problems as they began testing the game. But they were confident though that they would reach their goal.
The Empty Coffee Can Detector: Since this project included some tricky woodworking, this one made quite a mess. Even in the last hour, the team was still cutting and sanding to finish the product. But as Andy and Jens still had their work cut out to finalize the hardware Marlies and Pavan took their last steps to make the software working.
3PM - Return of the MT: Time for some show-and-tell
We couldn't exactly do 'the big reveal' for the lounge, because it's one of the first things you see when you approach the building. However, we believe some of them were surprised with what we had achieved in only 24 hours. Before the space was empty with a big table, but now it's an inviting space for the employees to work or relax and for the customers to sit and even have meetings.
The Coffee Can Detector was a project that proved to be working flawlessly during the demo. We succeeded in our goal, we had a working detection mechanism. But it can do with some tweaking and finishing as there wasn't a lot of time for the finishing touches.
The CurveFever show-and-tell didn't go as smoothly as the team would have wanted, but with some code fiddling and patience, soon the audience was playing along on the big screen. Happy faces all around!
After the demo's, the management team rewarded us with home-made spaghetti.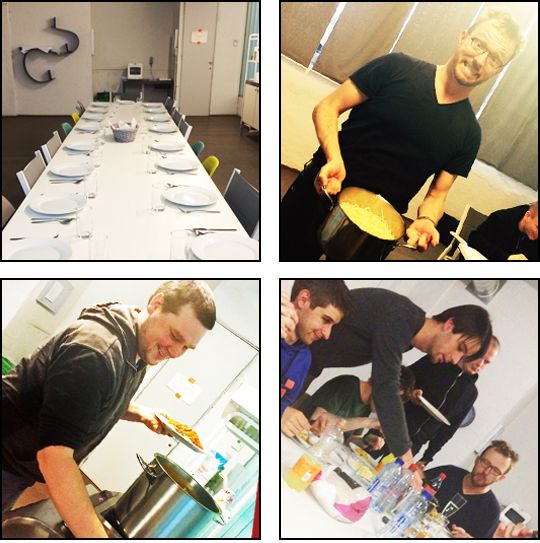 Things to do (or not do) next time
This is one of the most important lessons learned from this first edition: Next time we have to take active measures to prevent disturbing the people who don't participate (and keep the company running).

In the preparation for the next Ship It Day we have to try to stimulate people to generate more and more diverse ideas. There is potential, people!

We will not accept ideas that, most likely, will take less than 8 hours to complete.
Conclusion: be the change you seek
All in all, we're left with a positive feeling about this first Ship It Day. We did not only learn a lot about the technology or materials we were working with, but we also got to know our co-workers in another way. We definitely want to do this again, it's a great way to dip into those "What if we did that…" projects that never seem to get on the to-do list. It also helps our developers to keep their sanity and stimulate creativity. We have smart people working for us, why shouldn't we as a company use all that intellect?
Let's do this again!