Last week was the 11th Fronteers conference, in Amsterdam. They call it "one of Europe's premier conferences on front-end web development", and who are we to disagree. Some of our developers had been counting down the days as if it was their birthday party.
With the conference still fresh in our minds, we let those developers give a quick overview of their favorite talks and implications.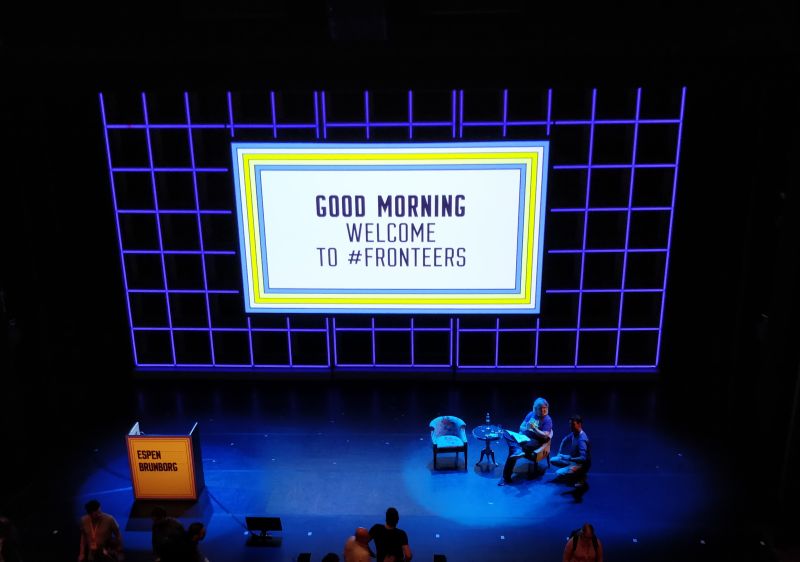 Sara Barrera Riano – UX-UI Wizard
Favorite talk
Chiara Aliorra - I Put a Spell on You
Why?
An illuminating talk about how we have to use more magic in our user thinking and design process. Aliorra builds her ideas on three big pillars: misdirection, illusion, and mental forcing. Aim the user's attention to a specific location on the page (misdirections), turn your users' expectations around, amusing them (illusion), and create a preference for your product by communicating trust and shared values (mental forcing).
Impact for me
This talk taught me that it is important to know your target audience and to understand their needs and goals. Only then will it be possible to create designs and flows, not unlike magic tricks, that persuade your users into doing what you want.
Robbe Bogaerts – Frontend developer
Favorite talk
Stefan Judis - What the v…DOM?
Why?
Judis gave us insight on how the VDOM or Virtual DOM works and what it's based on. Not an easy subject for a single talk, but he explained the basics quickly and concisely: how code gets transformed to AST (abstract syntax tree) and how we can manipulate this process to our advantage (like babel does to transform ES6 to vanilla JS). Moving on to the actual VDOM, he showed us what's happening behind the scenes, how the vDOM is created using hyperscript, for example, and how React uses this with their JSX in components and Vue for its templates.
Impact?
The talk was a lot more technical than most of the other Fronteer talks, which is part of what made it stand out to me. I use VDOM pretty much every day, but knowing what goes on in the background gave me a new appreciation for it.
Jeroen Savat – Frontend developer
Favorite talk
Chris Gannon - The Almighty Rabbit Hole
Why?
A light and funny talk about animations, while a professional animator and interactive designer showed us some of his work. These were mostly loaders using impressive interactive animations (the bulk of his professional work) that were built in web technology (SVG, JavaScript). Examples can be found here: https://codepen.io/chrisgannon/
Impact?
Designing "static" animation timelines and making them interactive (clicking, dragging, gestures) can really spice up a design. GreenSock (the JavaScript library he uses) in combination with SVG was already on my "should look into this" list, but this talk made it a top priority for me.
Sander Van Loock – Java developer
Favorite talk
Mathias Bynens – V8 internals for JavaScript developers
Why?
Apart from all the design talks, this was the most technical one. Bynens, a developer for the V8 JavaScript engine, gave some useful performance tips for writing JavaScript by explaining some V8 rendering internals. These internals, while never directly visible to JavaScript developers, explain why certain code patterns are faster than others.
Impact?
The most important takeaway was to avoid holes in arrays. If an array contains holes, even if they're filled up later on, they are marked as holey arrays. These arrays are not optimized for doing operations on them. So, always avoid them as much as possible.