Support is all about assisting our customers when they encounter urgent technical issues. In critical situations like these, time and efficiency are extremely crucial. As a support team, we want to be able to solve major issues as soon as possible.
In order to achieve this goal, we try to take a closer look at every action we make during a call. In doing this, we noticed that one of the things crucial to efficiently handling a call is to be able to quickly retrieve information relevant to the technical issue. To tackle this, we took aboard two highly motivated interns to help us build a support platform.
Why invest in a support platform?
When on call, solving the technical issue itself is only a small part of the story. Our support engineers noticed they spent even more time on tasks like communicating with our customer and switching back and forth between applications and dashboards. Sometimes even trying to stay on track of everything has proven to be a real challenge. So by using some kind of a tool that integrates at least some of these tasks, we might save ourselves a lot of valuable time.
At Foreach, we already use a bunch of applications to assist us during calls (OpsGenie, Zabbix ... ), but these are all separate stand-alone applications, each fulfilling a different function. Even though all of these applications do their job just fine, monitoring and updating them can be quite tedious and time-consuming. The information is just too widespread, which makes it almost impossible to retrieve the necessary information and to get a quick overview of all the technical issues.
Also, some of the applications are not very mobile-friendly. So for example, quickly checking something while you are on the road is out of the question.
By integrating all of these applications into one, we could introduce two often requested features at once:
A quick overview of the incoming technical issues;
having that overview on your phone (responsive overview).
By tackling these issues, we could remove frustrations from both our team and our customers.
The integrated support platform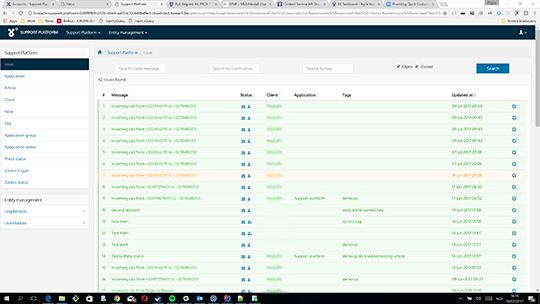 The main goal of our support platform is to integrate all the applications we need into one user-friendly platform. This would – without a doubt – increase the efficiency of our support team. At the moment, we already use a number of applications for troubleshooting and communication, but it's easy to miss the forest for the trees.
OpsGenie: A platform that tracks the incoming calls and forwards them to the person who is on call

When our support number is called, OpsGenie will forward the call and create a new issue. The support platform then queries to the OpsGenie API so that the issues will be synchronised, and we can add notes and close the issue from within the support platform. This allows us to follow up on these issues, connecting the necessary information from within the support platform to the information spread throughout our other databases.
Theta: A communications platform to display status pages of our applications

Theta is also integrated into the support platform. So when we update the status of an application in the support platform, this will also be updated on our customer's dashboards. This way, they can easily follow which applications have issues and ensure themselves that someone is already looking into it.
Zabbix: Zabbix is a monitoring tool for the technical status of applications and servers.

In Zabbix we can create triggers to check if one of our applications or servers isn't responding as expected. These status updates are imported in the support platform that allows us to check if there's an issue with one of our applications whenever we get a call. This is much faster than opening our laptop and waiting for the entire Zabbix dashboard to be loaded.
Confluence: A knowledge database that we use for all our documentation

When we get a specific issue, we can connect these to our existing troubleshooting articles to check for a quick and easy solution. On the support platform, this results in simple tags from which we can choose.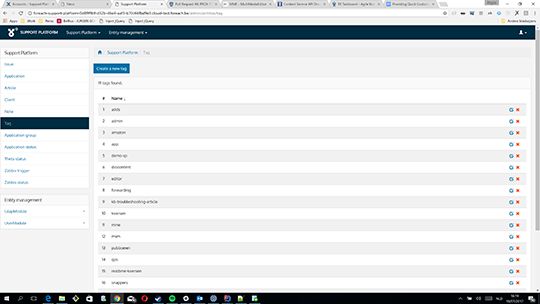 We integrated these four applications in our support platform. Together, they offer us a clear overview of the incoming calls, as well as the status of our different applications. So far it has already enabled us to act faster and is proving to be of great value.
Conclusion
For our support team, the support platform really makes a difference. All the apps are centralised so that we get a clear overview of the incoming issues, without having to force our way through loads of documentation. And because it is completely mobile-friendly, we can check this anywhere we want: phone, desktop, tablet … In short, it makes our support team's lives easier and by doing so, it allows them to provide better support to our customers.